Immersive Experiences in Orlando and other cities
Currently, outside of the Wizard of Oz Museum, most permanent Immersive Experiences locations can be found in Orlando, New York, Atlanta, Las Vegas, and Toronto. 
 In my opinion, permanent Immersive installations are better than temporary ones that are running for a few months. For example, The Immersive Van Gogh exhibit which ran in New York City scored 4.8 stars out of 3300+ reviews, while the same exhibit in Orlando scored 4.4 stars from 673 reviews and much lower in Pensacola, Florida.
Since the best way to judge Immersive Experiences is from Google Reviews, below are the location, name of the experiences, and Google review scores.
New York
Hall des Lumieres – Google 407 reviews with 4.5 stars
Experience: Destination Cosmos
Gustav Klimt: Gold in Motion
Orlando
Orlando International Premium Outlets  Google  190 reviews with 4.9 stars
Experiences: Lonely Dog
Atlanta, Las Vegas, Toronto
Illuminarium Atlanta -Google 1899 reviews with 3.7 stars
Illuminarium Las Vegas – Google 952 reviews with 4.2 stars
LightHouse ArtSpace Toronto – Google 2183 reviews  with 4.2 stars
Experiences: After Dark (21+), Wild, Alice in Wonderland, Winter Wonderland Spectacular
Cape Canaveral
The Wizard of Oz Museum – Google 1536 reviews with 4.9 stars
Experiences: The Wizard of Oz, Immersive Van Gough,  Flying through the Universe
In general, the average price for 30 minutes of the Immersive experience is around $30 in permanent locations and on average $50 in temporary locations. 
Based on my research, visitors can enjoy 30 minutes of the Immersive experience while standing, but get tired shortly after.  With the exception of the Wizard of Oz Museum, all locations only display one exhibit within the 30 minutes time, while at the Wizard of Oz Museum, we show  Van Gogh Art ( 15) minutes, 3 minutes of flying through the Universe, and 12 minutes of the Wizard of Oz content.
The Wizard of  Oz Museum charges under $30 for the Immersive experience, but it also includes the museum tour with over 2000 artifacts and original movie props.
The Wizard of Oz Immersive content created for the museum looks realistic in a 3D environment in comparison to other storytelling Immersive experiences that were created in cartoon style.  From a technical design perspective, one minute of content in cartoon style might require a week of creation, while in 3D  it will take an average of 5- 6 months.  I am aware of two other international companies that are working on creating the Immersive Wizard of Oz experience mostly based on telling the story, while at the museum we are concentrating on other elements of the story that were not covered in the MGM movie making the experience also educational for an average visitor. 
To understand the differences, please see the two images below of 2D and 3D experience at the Wizard of Oz Museum.
It is not feasible for creators to invest time and resources to build in 3D based on the temporary nature of the exhibits.  Since The Wizard of Oz is a permanent museum, we pride in our content and adding a few minutes of additional content annually. It took the museum almost 3 years to create 12 minutes of Immersive content in 3D, to be equal to almost 3 hours of content in 2D.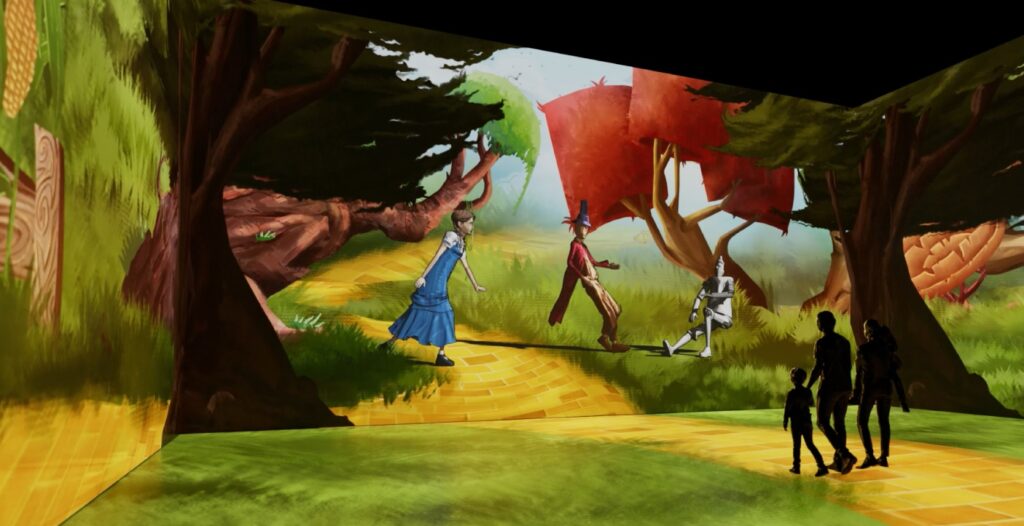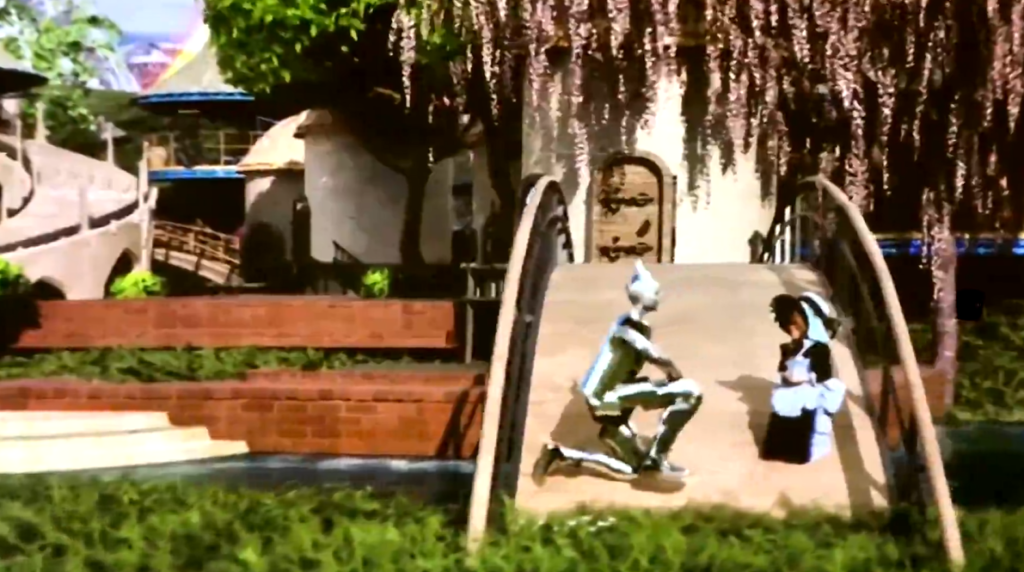 Visit the Wizard of Oz Museum today
"The museum displays over 2000 Wizard of Oz Memorabilia pieces with original props from the famous 1939 movie. Through the self-guided tour, visitors learn about the universe of Oz, which consists of 40 official Oz books, and the movie that we all love, partially based on the first book written 40 years before the movie production."