Museum accomplishments
Since opening in 2022 the Wizard of Oz Museum accomplished ranking in city, county, state, and national ranking against other attractions on various platforms such as Google, TripAdvisor, Yelp, Facebook, and Groupon. 
Data as of April of 2023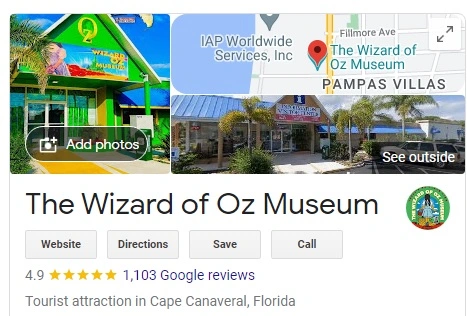 Since Google does not rank museums or attractions, the only way to compare the museum achievements is to compare them to other well-known attractions' reviews and show their standing within the state.
The Wizard of Oz Museum – 4.9 with 1100 reviews
Other  Attractions
Kennedy Space Center – 4.7 with 24K+ reviews
Magic Kingdom Orlando – 4.6 with 200K+ reviews
Icon Park Orlando – 4.6 with 38K reviews
Titanic Museum Orlando – 4.5 with 3200 reviews
Museum of Illusion Orlando –  4.4 with 1400 reviews
The Wizarding World of Harry Potter -4.8 with 16K reviews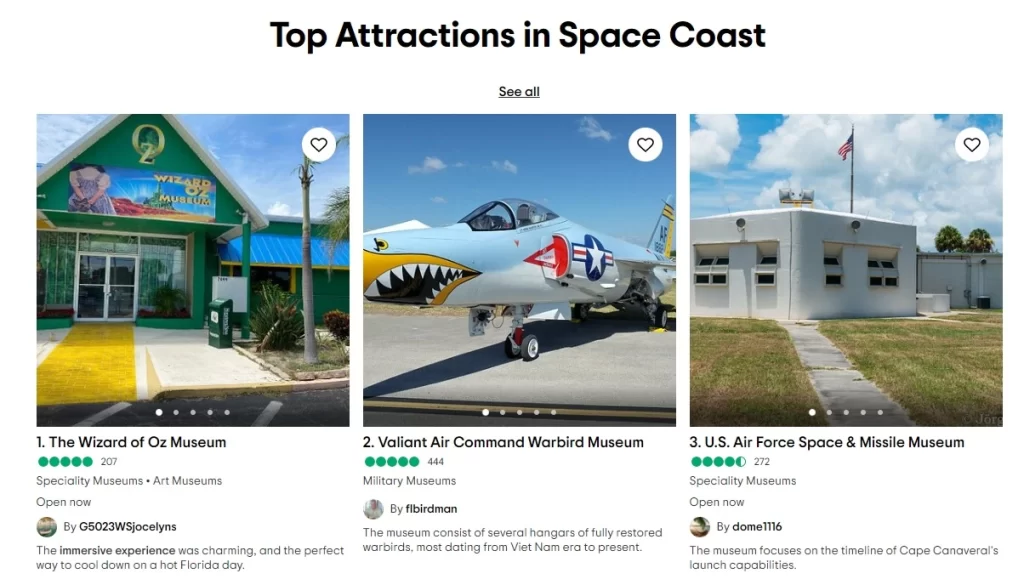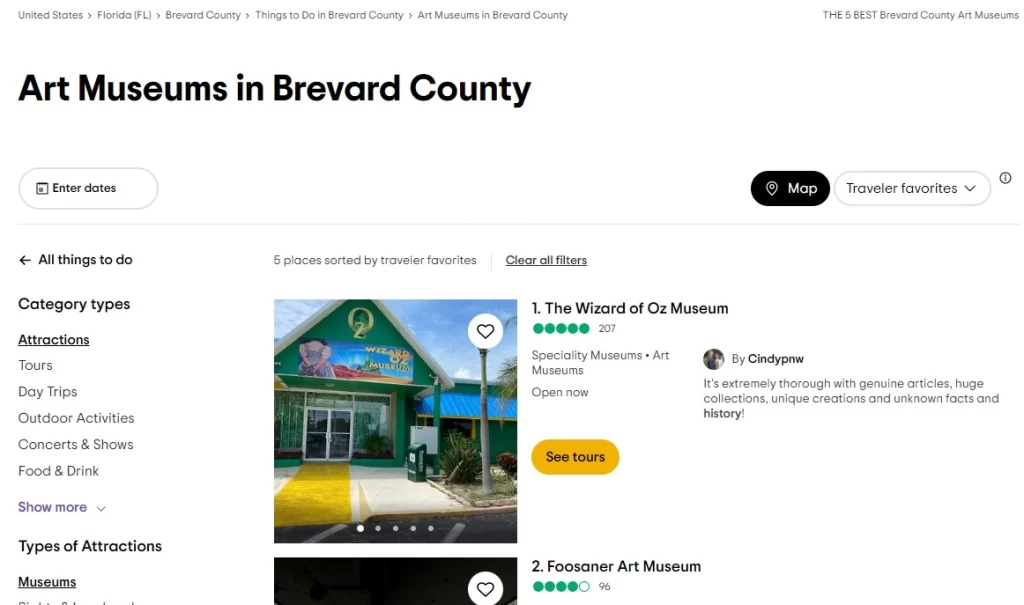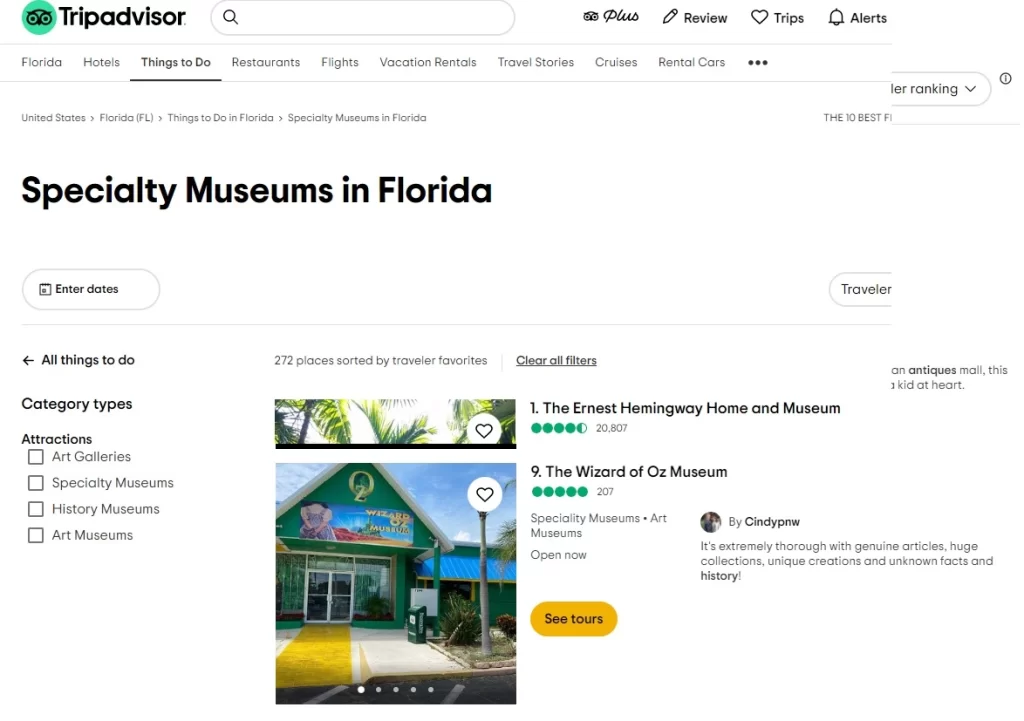 TripAdvisor is the most reliable source of attraction ranking worldwide.
The  Museum ranks under a few categories as things to do in Space Coast, as a specialty, art, and children's museum on the National level.
The Wizard of Oz Museum – 5.0 with 207 reviews
#1 out of 873  Things To Do in Space Coast.
#1 out of 5  Art Museum in Brevard County and #6 out of 120 in Florida.
#1 out of 15 Specialty Museums in Brevard County and #9 out of 272 in Florida.
#3 (Travelers ranking) out of 565 Children's Museums and #16 out of 565 under (favorite ranking).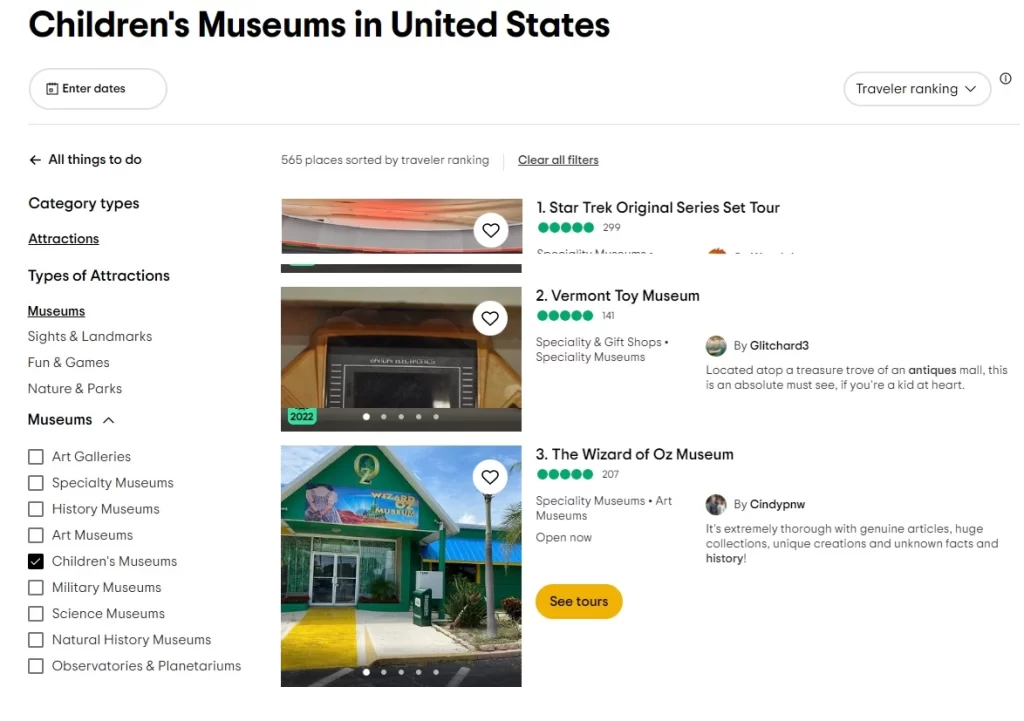 The Wizard of Oz Museum has a group page with 3300+ members and a Wizard of Oz Museum page with 5140 followers. 1843 people checked in the museum and 4708 liked the museum page.
The Wizard of Oz Museum – 4.8 with 96 reviews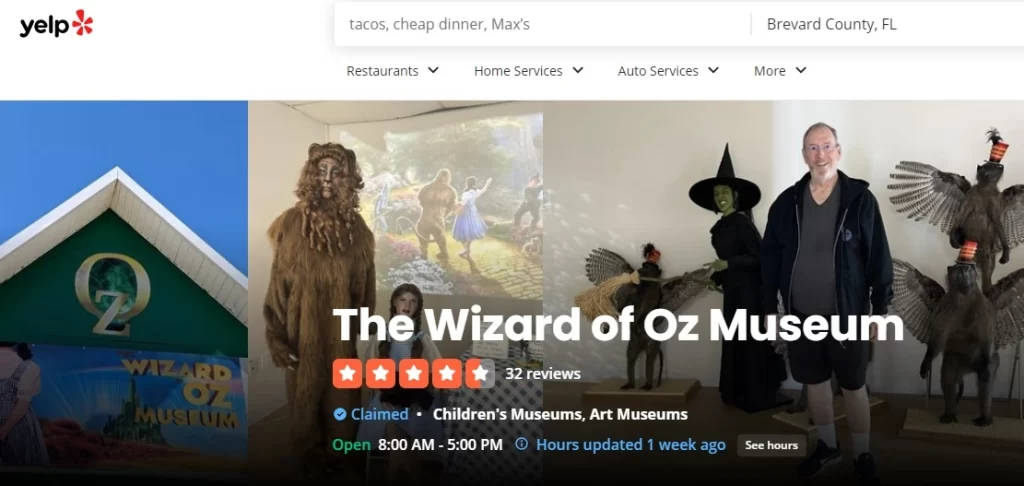 The Wizard of Oz Museum has also reviews on Yelp. In addition to reviews, Yelp also ranks museums and attractions.  Rank as the #1 Museum in the area and ranks  #1 as a children's museum including an Orlando area.
The Wizard of Oz Museum – 4.5 with 32 reviews



In the summer of 2022 to make museum awareness, the museum sign up with the Groupon service which yielded over 800 visitors some of them leaving reviews.
The Wizard of Oz Museum – 4.57  with 148 reviews