News and Media covering Florida Wizard of Oz museum - Orlando
Fred Trust
Mobile: (410)530-3265
Email: wizardofozmuseum@gmail.com
Wizard of Oz Museum brings immersive movie experience to Brevard County
Magical Wizard of Oz Museum and Immersive Experience in Florida
Fred Trust, Owner of Wizard of Oz Museum
Everything Brevard Magazine. August 1, 2023 By Lee Nessel, EverythingBrevard Managing Editor
Theres No Place to Play Tourist Like Brevard
https://www.everythingbrevard.com/blog/Business/Theres-No-Place-Like-Playing-Tourist-in-Brevard.html
We followed the yellow brick road all the way to Cape Canaveral.
It's fun to play tourists in our own community and discover gems in plain sight. Three heel clicks for the Wizard of Oz Museum, which offers an unexpectedly delightful experience that spans literature, film, pop culture, technology, and immersive experiences that can only be found here on the Space Coast.
Let's start outside: Driving up to the museum, the green paint instantly evokes Emerald City vibes. It's a bit jarring pulling into a strip mall off N. Atlantic Avenue (and not a farm in Kansas), but once you step onto the yellow brick road as you approach the door, you're quickly transported over the rainbow and it's easy to imagine you're not in Florida anymore.
I took my 10-year-old daughter for a fun outing, knowing she'd enjoy whatever we were about to find since she'd played a few roles on stage in the Wizard of Oz Junior musical when she was 5.
We immediately wanted to look at all the trinkets and memorabilia upon entering the gift shop lobby, but found focus when Manager Jacqueline Cummings welcomed us in and shared a verbal introduction to how the museum works.
I noticed a man watching over things, wearing a shirt from the museum, and didn't learn until later when we chatted organically (I was on a family outing, not intending to write an article) that it was Fred Trust, the owner who masterminded his passion for the Oz stories into this one-of-kind attraction.
I did say Oz stories, plural. Like most, I had only known of the black-and-white-turned-color film. But Fred's museum is what a passion for reading combined with imagination and determination look like. While the movie we all know was based on a book, there are indeed 40 Oz books, written by L. Frank Baum. 
My kiddo, and others we saw there, headed into the museum also with extra excitement, with the promise of a prize if they could find all the animals on a scavenger hunt paper.
Learning More About Literature
Fred developed a love of the Oz stories he read as a kid in Europe. When he moved to the U.S. at age 20, he discovered the Oz series. For 35 years, he built a collection of over 2,000 pieces of memorabilia, which fills half of the museum. He started with collecting the old books — some he offers for sale — and when guests starting asking for memorabilia from the famous movie, he elevated his searches.
He has an incredible collection of history, with four notable more recent additions: two items from the film — a spear and Emerald City green jacket — and one of the seven Dorothy dresses used during production. The latest gem just arrived on July 30, the ruby slippers that were part of the now closed The Great Movie Ride at Disney's Hollywood Studios theme park.
You can walk through and read information about the collection or indulge in the self-guided tour option, where you can use your mobile phone to scan a QR code on each case and hear Fred narrate history of the pieces, which date back to 1850.  
"This is theoretically American history," Fred said about his museum. "People know about the 1939 movie but here they learn about the 1910 13-minute silent film, the 1902 Broadway show and so much more."
Immersive Experiences Only Found Here
Once you digest the expansive world of Baum's Oz, the back half of the museum is where you will experience a truly unique immersive experience. (Or you can start in the back and come to the memorabilia later — once you're in, you're in.) It was actually another Van Gogh immersive experience that provided the final inspiration for Fred to open his own museum. 
"Visiting the Immersive exhibit of Van Gogh (in Miami) gave me the idea to bring elements from the Oz books that were never made into the movie to life using immersive technology," he said. "In my head, I was thinking how cool it would be to have an opportunity to skip on the yellow brick road toward Emerald City and be surrounded by poppies."
Calling upon his experience as a computer engineer, Fred had a team of developers bring the little known world of Oz from those other 39 books to life in an immersive experience only found at his Cape Canaveral museum. Visitors actually get to enjoy three immersive experiences: 
Oz
Van Gogh
NASA's James Webb Telescope images of the universe.
Let me declare that I could have spent the entire day in that room. And I wouldn't have complained if they had the James Webb images on loop. I was mesmerized as my daughter danced to the music as she traveled through space and time. It was breathtaking and achieved the intended effect. We flew through the solar system and beyond.
Fred is nothing if not persistent. He said it took 6 months to develop just 1 minute of one of the Oz immersive scenes, building the specialty characters from scratch.
So, next time you're looking for a way to escape the heat, learn some American literature history, travel to Emerald city or fly through space, this is the place.
Top Rankings
In about the year and a half since opening in 2022, the Wizard of Oz Museum has landed atop many city, county, state, and national rankings of attractions on various platforms like Google, TripAdvisor, Yelp, Facebook, and Groupon. The museum website shares the good news here. 
Travelers have ranked the museum No. 1 on TripAdvisor's list of "Children's Museums in the United States."
Fred credits that to the various kids activities, including the scavenger hunt, and the multiple options in a kids area called the Munchkin room. The kids can interact with old Wizard of Oz toys, illustrations, and even watch the movie. Then, once inside the immersive experience room, kids can dance to the music and move along with the animated images.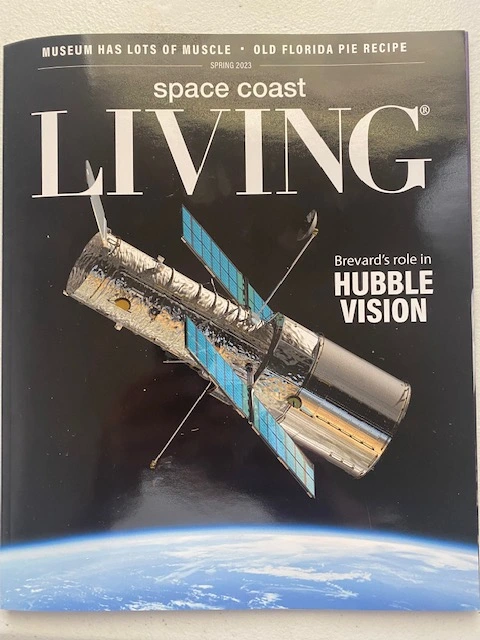 Space Coast Living Magazine. March , 2023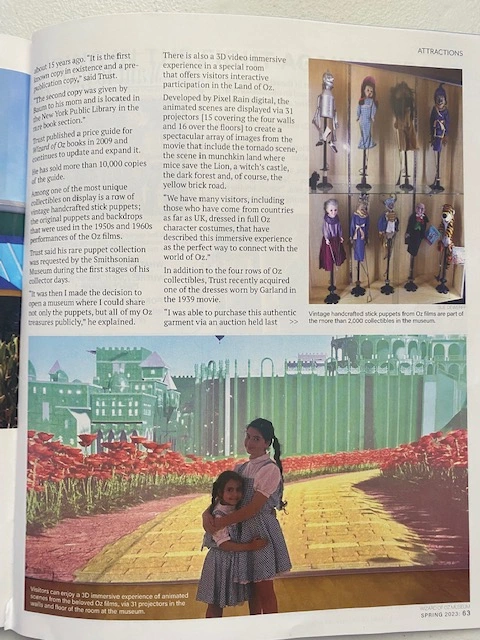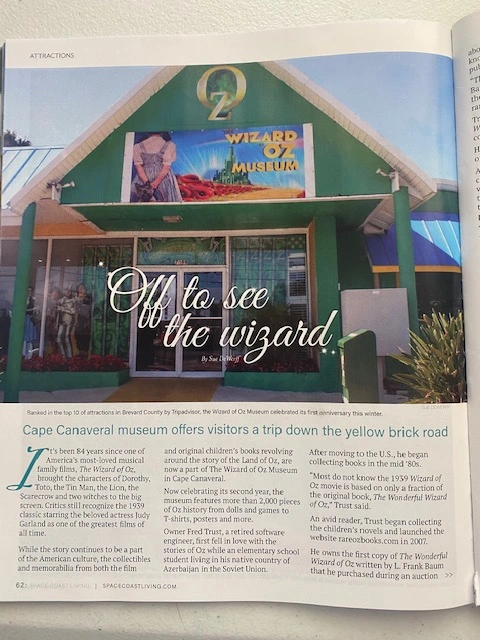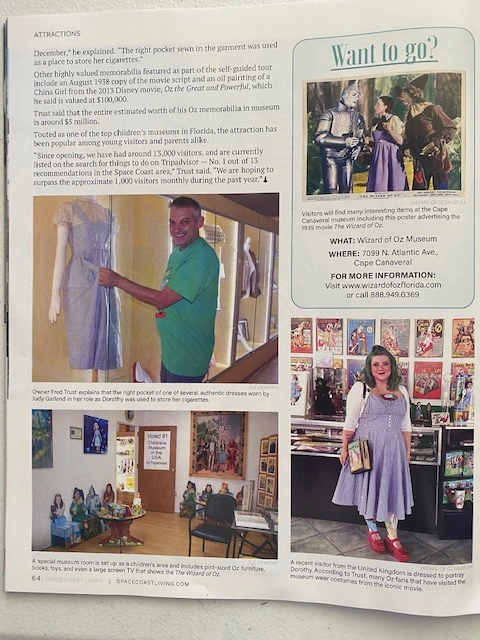 Wizard of OZ Museum
At some point in your vacay, you're going to be saying "There's no place like home!" But before you do – be sure you check out the Wizard of OZ Museum in Cape Canaveral, Florida. Located on N Atlantic Avenue in Cape Canaveral, the museum features over 2000 pieces on display with original props from the famous 1939 movie. 
7/3/23
Looks like the Wizard of Oz Museum is considered an Orlando attraction based on the article "10 Tips to enjoy the vacation in Orlando spending little".
https://www.travel3.com.br/comece-a-viajar/10-dicas-para-curtir-as-ferias-em-orlando-gastando-pouco

THE WIZARD OF OZ MUSEUM 
Speaking of unique museums, whether visitors take a tour of Florida's east coast to visit the Kennedy Space Center Visitor Complex , or spend a day at the beach, it's important to note that Cape Canaveral is home to the Wizard of Oz themed museum, the which has over 2,000 artifacts related to the books and movies. Admission is just $28.99 per person.  
Visit the Wizard of Oz Museum today
"The museum displays over 2000 Wizard of Oz Memorabilia pieces with original props from the famous 1939 movie. Through the self-guided tour, visitors learn about the universe of Oz, which consists of 40 official Oz books, and the movie that we all love, partially based on the first book written 40 years before the movie production."